TourGO Sparking White Starlit LED Dance floor 20 x 20ft
Our most popular dance floor of 2011 and set to make even more of an impact in 2012, the white LED starlit and starlight dance floor is what everyone is talking about. Finished in a stunning gloss white with hundreds of dazzling star lights this dance floor really brings style and sophistication to any event from a wedding to corporate launch.

The white LED dance floor is so versatile with the option to leave the star lights static or they can flash and twinkle at the press of a button. You can even slow the lights down or speed them up to the beat of the music. One nice touch that we find when hiring to weddings is that the speed of the lights can match the speed of your first dance which makes a beautiful effect and sets a very romantic atmosphere.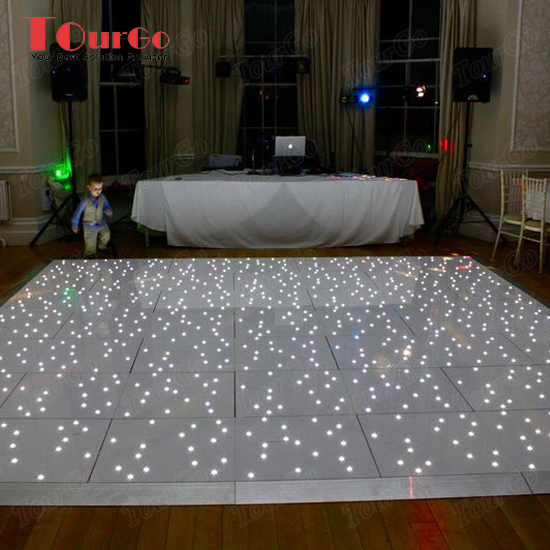 Component Specification:


| | | | | |
| --- | --- | --- | --- | --- |
| | Dimension(cm) | Dimension(inch) | Weight(kg) | Weight(lb) |
| Full Panel | 121.6 X 60.8 X 2.8 | 48 X 24 X 1.06 | 11 | 26.40lbs |
| Half Panel | 60.8 X 60.8 X 2.8 | 24 X 24 X 1.06 | 6 | 13.20lbs |
| Full Edge | 121.6 X 12.5 X 2.8 | 48 X 5 X1.06 | 1 | 2.86lbs |
| Half Edge | 60.8 X 12.5 X 2.8 | 24 X 5 X 1.06 | 1 | 1.54lbs |
| R/L Corners | 37.8 X 12.5 X 2.8 | 14.9 X 5 X 1.06 | 1 | 1.10lbs |

starlit dance floor Specification

Voltage:36V ;Consumption: 4W
LED Qty:16/ 32 Pieces W/R/G/B/Y color
Lamps:High Brightness SMD5050 Lamps
Controll:Remote
Channel:1 (twinkling effect, Speed adjusted by remote)
Weight:6KG /12KG;Size:2*2FT / 2*4FT
Panels: Durable Acryllc Top surface with PVC/ABS Plastic Back
Advantage:The panels can be easily to disassembly and replace the LED lightings inside

Size suggestion

12ft x 12ft - Suitable for upto 35-45 dancers
14ft x 14ft - Suitable for upto 45-55 dancers
16ft x 16ft - Suitable for upto 60-70 dancers
18ft x 18ft - Suitable for upto 75-90 dancers
20ft x 20ft - Suitable for upto 95-110 dancers
22ft x 22ft - Suitable for upto 115-135 dancers
24ft x 24ft - Suitable for upto 140-160 dancers
26ft x 26ft - Suitable for upto 165-190 dancers
28ft x 28ft - Suitable for upto 195-220 dancers
30ft x 30ft - Suitable for upto 225-250 dancers