Mobile Soundproof Booth for One person in Purple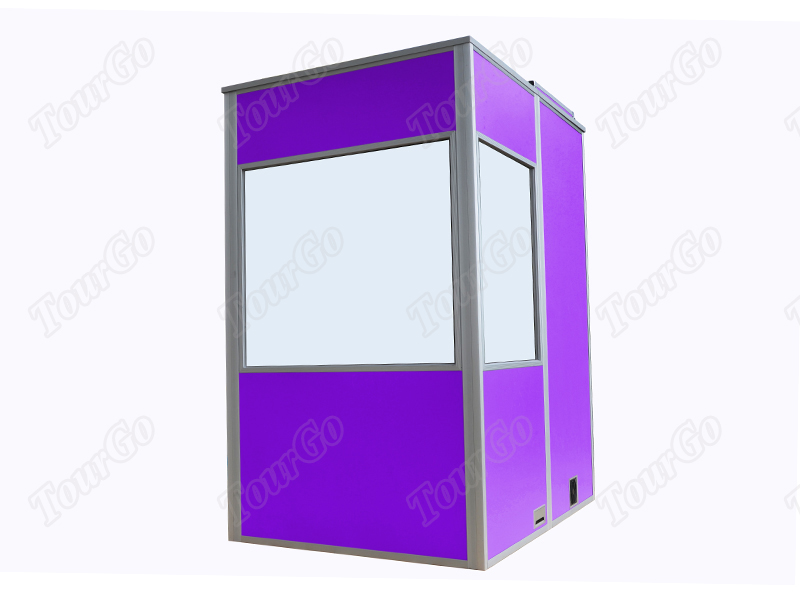 Super LightWeight Purple Interpretation Booths
for One person:
Super light weight interpreter booths TG-1SBOOTHS is a super light weight, modular, easy to mount interpreter booth for 1 person, using the optional extension sets. 1 or 2 persons can easily build the booth without any tools. The TG-1SBOOTHS complies with the ISO 4043 norm for mobile interpreter booths and is equipped with table and 1 cable ducts.
Interpreter booths are designed to create the best acoustic environment for the distinction of various languages spoken simultaneously, It provides the perfect visual and two-way audio communication between the interpreters and the participants in various meetings conferences.
Super LightWeight Purple Interpretation Booths for One person Configuration :
1. sound insulation door: Easy opening 180 angle without noise; Outward;
2. Front window: 700*800mm (H); Front window: 1100mm * 800mm (H) , Ample sight space; acrylic material ( thickness 6mm; Anti-scratch; Prevent sharp light outside).
3. ventilation system: two silent ventilation system on top (optional), almost silence(< 40dB).
4. work surface: 112cm(L)*50cm(W)*73cm(H); Can bear weight of all equipments
5. cable passage: Dia. 5cm
6. standard 6 wall panels(3 of which have windows with acrylic and 1 door panels), 2 roof panels , 1 working table. the booth also have 1 cable ducts
Super LightWeight Purple Interpretation Booths Capacity of sound-proof :
The capacity of sound proof of our booth is completely over ISO-4043 standard, at least 30 dB
Super LightWeight Purple Interpretation Booths for One person Benfit :
A. Easy installation, can be performed by 1-2 person
B. Very comfortable working environment
C. Clear view window (acrylic)
D. Durable build
E. The table is easy to install without using tools at all
F. Good looking and Comfortable
G. Suitable for all types for conference systems


Super LightWeight Purple Interpretation Booths for One person Specification:
Standard suited for 1 persons
Standard size:W1200xD1600xH2000 mm
Weight approx. 110KG
Standard 6 panel configuration
Ventilation system integrated in roof panels
Outer Materials is high density plywood coated with fire-retardant paint
dark grey color, other colors are available on demand.
Super LightWeight Purple Interpretation Booths for 1 person Package :
Hard flight cases
Dimensions :W2080xD540xH1360 mm
Flight case weight: 60kg
6 swivel wheels with brake